When it comes to maintaining board certification, physicians will have a new avenue.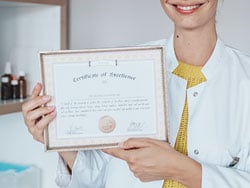 The National Board of Physicians and Surgeons (NBPAS), created in 2015 to give physicians an alternative to traditional recertification efforts, recently announced that The Joint Commission has acknowledged the organization as a credentialing body. Deemed a "Designated Equivalent Source Agency" by the national accrediting body, NBPAS can now be used by hospitals and health systems for physician credentialing and privileging requirements.
Karen Schatten, associate director at NBPAS, told Medscape Medical News that the announcement is significant to all board-certified physicians nationwide, "as NBPAS provides a choice for recertification that's evidence-based, clinically relevant, nationally recognized, and less burdensome."
NBPAS was created as an alternative to groups including the American Board of Internal Medicine and other boards through the American Board of Medical Specialties (ABMS), which some physicians find costly and time-consuming to maintain specialty certification. In recent years, the ABMS has answered this criticism by adjusting some of its testing requirements.
An online survey of physicians conducted in 2019 for the American Board of Medical Specialties revealed that only 12% found value in maintenance of certification (MOC). Forty-one percent of respondents didn't find value in MOC, while 46% had "mixed feelings" about it.
"Physicians are drowning in a sea of administrative tasks that prevent them from doing what we need them to do: provide outstanding patient care," added Schatten. "NBPAS is proud to support physicians and reduce burden through its recognized and physician-led board recertification pathway."
Administrative Burdens Hurting Patients and Physicians
Administrative burdens hurt patients by posing a risk to patient safety, said Schatten. One impact on physicians: Twenty-five percent plan to retire earlier than planned, according to the 2020 Medscape US and International Physicians' COVID-19 Experience Report: Risk, Burnout, Loneliness.
The Association of American Medical Colleges expects a shortage of between 37,800 and 124,000 physicians by 2034. Burdens such as recredentialing may make the expected physician shortage even more acute, said Schatten.
Schatten highlighted two take-aways for physicians about this news. One is that NBPAS offers a nationally recognized pathway for board recertification. "[W]e are here to help inform [physicians'] hospitals or employers, as needed," she said. Second, NBPAS' recertification is 72% less costly, on average, than other recertification pathways, which supports physician recruitment and retention, she noted.
Paul Teirstein, MD, who founded NBPAS and serves as its president, called The Joint Commission decision "another important milestone" for the group. "Hospitals and health systems look to The Joint Commission standards as important benchmarks for accreditation," said Teirstein, who also serves as chief of cardiology at San Diego–based Scripps Health.
An El Cajon, California–based nonprofit, NBPAS recertifies nearly 10,000 board-certified physicians, according to the organization. Its recertification is accepted by more than 157 entities, such as hospitals, health systems, and telemedicine companies.
Aine Cryts is a veteran health IT and healthcare writer.
For more news, follow Medscape on Facebook, Twitter, Instagram, and YouTube