This healthy pumpkin bread is moist, tender, and made in one bowl! With just 5 minutes prep, it's easy and under 150 calories per slice.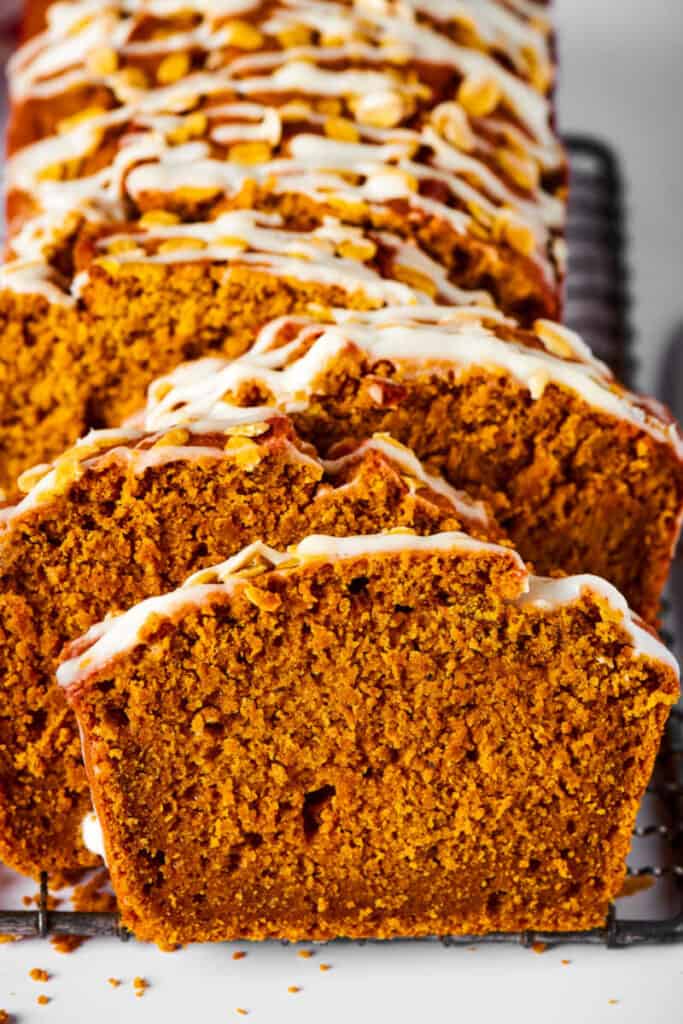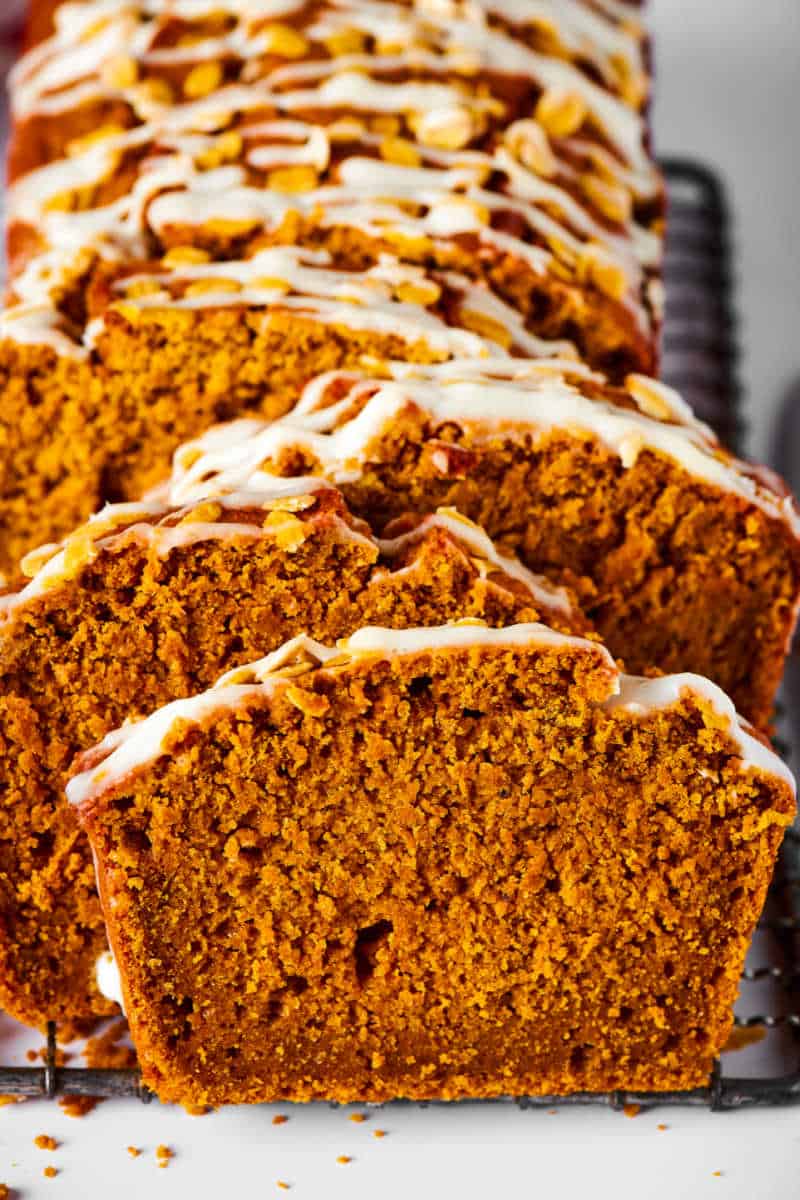 The best healthy pumpkin bread
There is an unfair stigma that pumpkin desserts are unhealthy and something that must only be enjoyed on special occasions. That is far from the truth and there are tons of options out there.
Some of my healthy pumpkin desserts to make include a pumpkin pie and pumpkin muffins. If I had a favorite, though, it would have to be pumpkin bread.
Why you'll love this recipe
Flourless. It has no white flour or processed flour and instead, we use oat flour, which has extra fiber, protein, and whole grains.
No added sugar. This bread is naturally sweetened with nothing refined, using coconut sugar.
Naturally dairy free. There is no dairy whatsoever, provided you use a dairy free milk (like almond, coconut, soy, or oat milk).
Low calorie. Pumpkin bread uses an entire 15 oz can of pumpkin puree. This keeps the calories low and minimal fat used- Each slice has around 150 calories.
What I love about this recipe is just how perfect it is. The texture is super moist and tender and it has a naturally sweet pumpkin flavor! It's healthy enough to enjoy a slice for breakfast or a cheeky slice (or two) for dessert!
Ingredients needed
This recipe is very simple and the short ingredient list is proof. It uses pantry staple ingredients, and this is what you'll need:
Pumpkin puree– Either unsweetened canned pumpkin or homemade pumpkin puree. Do not use pumpkin pie filling, or else you'll be adding excess sugar to the bread!
Coconut oil– Keeps the bread extra moist and tender. Use refined coconut oil to ensure there is no coconut flavor.
Eggs– room temperature eggs.
Milk– Use your favorite milk or whatever you have on hand. I like using unsweetened almond milk.
Coconut sugar– To keep this bread naturally sweet, I used coconut sugar. Brown sugar or white sugar also work.
Pumpkin pie spice– A must for any recipe that calls for pumpkin!
Oat flour– A healthier alternative to traditional white or wheat flour. Simply grind up your own oats and skip the expensive store-bought kind.
Baking powder-Gives the pumpkin bread some rise and fluffiness.
How do you make healthy pumpkin bread
Simple is an understatement for this recipe. The prep work is less than two minutes and the oven takes care of all the hard work. Ready to whip up a loaf?
Step 1- Make the batter
Start by whisking together the pumpkin puree, coconut oil, eggs, sugar, and pumpkin pie spice until smooth. Gently mix through the oat flour and baking powder until combined.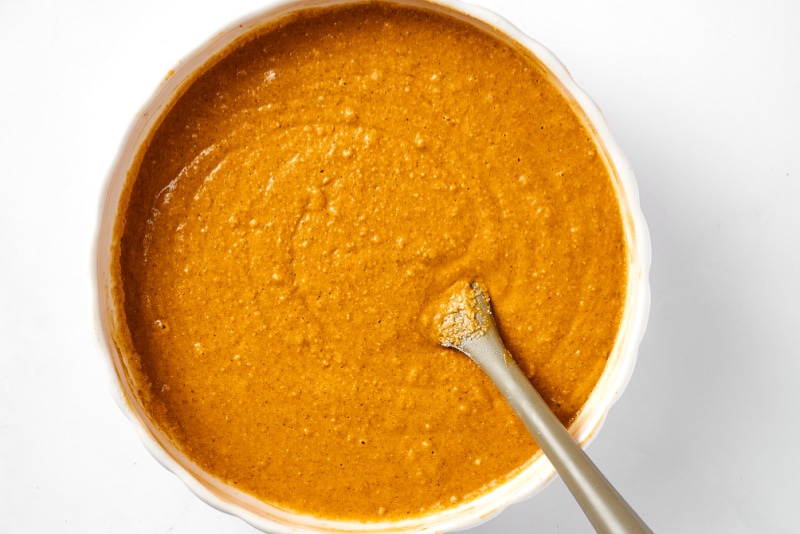 Step 2- Bake the bread
Transfer into a greased loaf pan and bake for 55-60 minutes, or until a skewer comes out mostly clean.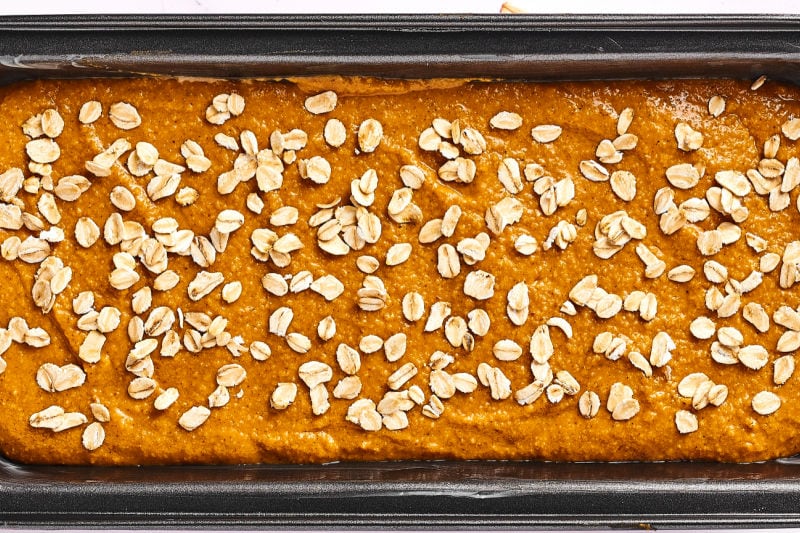 Step 3- Cool and slice
Now, let the pumpkin bread cool completely, before slicing and serving.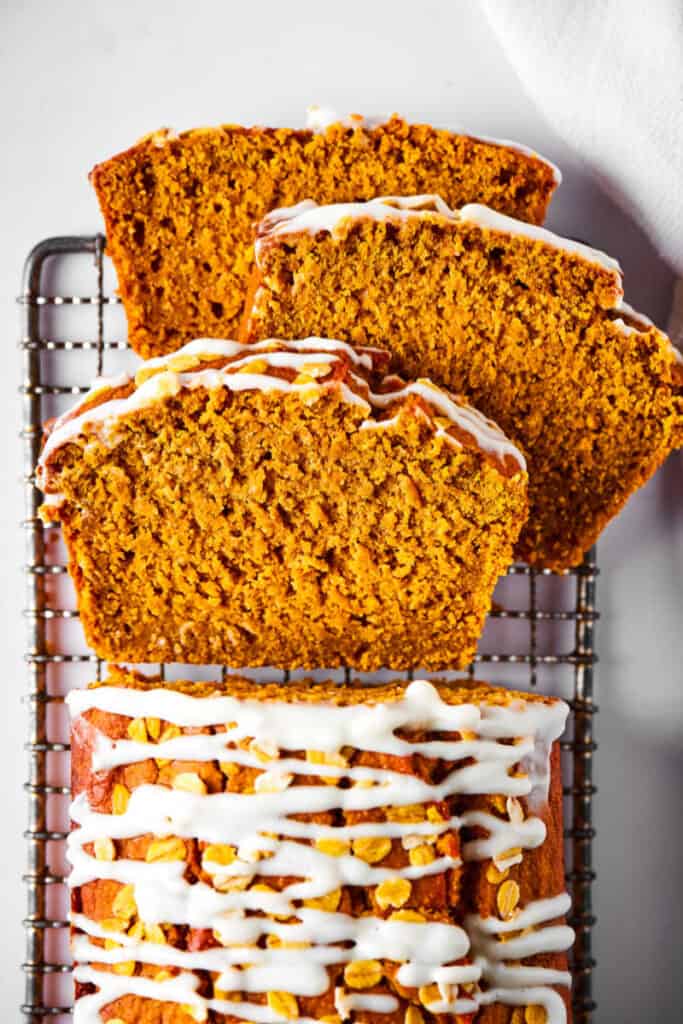 Dietary variations
What we love about this bread is just how forgiving it is to various diets out there and how easy it is to adapt. Here is what we have tried:
To make it vegan. For a vegan pumpkin bread, replace the eggs with an egg substitute.
Gluten free pumpkin bread. Provided you use gluten free oat flour, this recipe is gluten free! Alternatively, you can make almond flour pumpkin bread.
Make muffins instead. Try my healthy pumpkin muffins that use very similar ingredients and have a reduced baking time!
Cut the sugar. Swap out the coconut sugar for a sugar free alternative, like erythritol or keto brown sugar.
Healthy pumpkin bread variations
While this pumpkin bread tastes delicious on its own, here are some fun flavors and mix-ins to switch things up!
Chocolate chips– Fold through 1/2 cup of chocolate chips for a delicious chocolate chip pumpkin bread.
Banana– Swap out half the pumpkin puree for equal parts of mashed banana. You'll have some extra sweetness from the banana!
Cream cheese– Swirl through 1/2 cup of softened cream cheese through the middle of the bread before baking it.
Cranberries– Fold through fresh or frozen cranberries for a lovely tart twist to it.
Zucchini– Add some shredded zucchini for an extra nutritional boost, while keeping the bread super moist.
Storage instructions
To store: Leftovers will keep well at room temperature, covered, for up to 5 days. If you'd like the bread to keep longer, store it in the refrigerator and it will keep for at least a week.
To freeze: Place slices of the pumpkin bread in a ziplock bag and store them in the freezer for up to 6 months.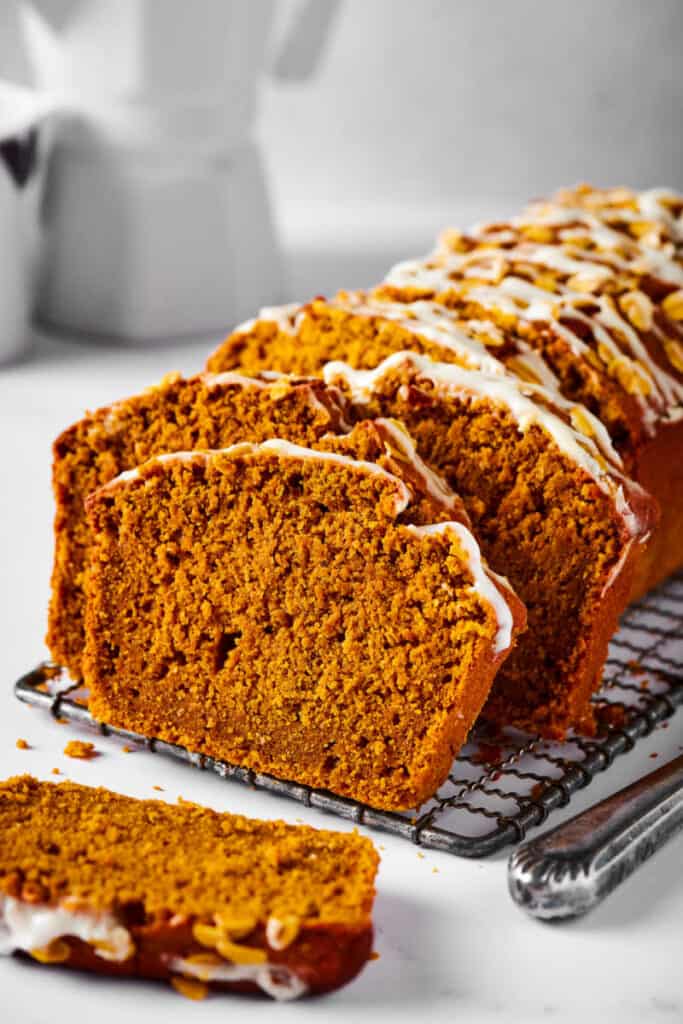 More healthy pumpkin recipes to try
Frequently Asked Questions
Why is my pumpkin bread dry?
Dry pumpkin bread is a result of overbaking. Once a skewer comes out mostly clean from the center, the bread is done, as it continues to cook as it is cooling down.
Is canned pumpkin the same as pumpkin puree?
Yes, canned pumpkin and pumpkin puree are both the same thing. Canned pumpkin can either be unsweetened or as a pumpkin pie filling. If in doubt, ALWAYS choose the former.
Is canned pumpkin low carb?
Pumpkin, including the canned variety, is considered a low carb food. It contains very few net carbs and plenty of fiber.
Canned pumpkin can be used in various keto desserts, like pumpkin pie, pumpkin bars, and pumpkin cheesecake.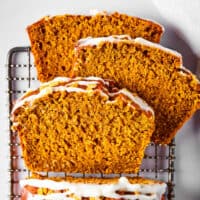 Preheat the oven to 180C/350F. Grease a 9 x 4-inch loaf pan and set aside.

In a large mixing bowl, combine your pumpkin, coconut oil, eggs, milk, sugar, and pumpkin pie spice and whisk together until creamy and smooth. Add the oat flour and baking powder and mix until combined.

Transfer the batter into the lined pan and bake for 55-60 minutes, or until a skewer comes out clean.

Remove from the oven and let it cool in the pan completely, before removing and slicing.
* Any sugar can be used, including brown sugar substitute. 
TO STORE: Pumpkin bread can be stored at room temperature in a sealable container for up to 5 days. If you'd like the bread to keep longer, store it in the refrigerator and it will keep for at least a week.
TO FREEZE: Place slices of the pumpkin bread in a ziplock bag and store them in the freezer for up to 6 months.
Serving: 1slice | Calories: 145kcal | Carbohydrates: 20g | Protein: 6g | Fat: 8g | Sodium: 54mg | Potassium: 130mg | Fiber: 2g | Vitamin A: 63IU | Vitamin C: 1mg | Calcium: 47mg | Iron: 1mg | NET CARBS: 18g