A Charlotte, North Carolina-based internist is facing federal charges for her role in defrauding Medicare and TRICARE in a durable medical equipment (DME) scheme.
According to a federal indictment, throughout 2019 and 2020, Sudipta Mazumder, MD, worked as an independent contractor for a Delaware-based telemedicine company. During this time, Mazumder signed a series of fraudulent orders for medically unnecessary DME, specifically knee braces.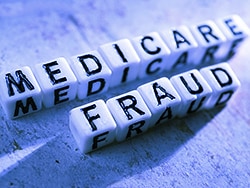 With the submission of each order, Mazumder asserted that she determined the need for the braces through medical examination of each of the Medicare and TRICARE beneficiaries. However, federal authorities claim that in most cases she not only had never performed examinations of any of the said beneficiaries but also had little to no interaction with them at all.
Following each submission, the telemedicine company would send Mazumder unsigned orders for the orthopedic braces. She would then sign and return the orders in exchange for $20 for each assessment she had performed. Authorities allege that thousands of fraudulent reimbursement claims were submitted to the federal health insurance programs, totaling approximately $11,436,873.
Mazumder is charged with one count of healthcare fraud, which carries a maximum prison term of 10 years and a $250,000 fine, and six counts of making false statements relating to healthcare matters. Each count of the latter charge carries a maximum penalty of 5 years in prison and a $250,000 fine per charge.
Her initial appearance is scheduled for July 12, 2022, in federal court in Charlotte.
According to the North Carolina Board of Medical Licensure, Mazumder obtained her license to practice in the state in 2006 and it expires in October 2022. She is featured as an employee of Carolina Medical Associates, located in Charlotte, on the practice's website.  
Frankie Rowland is an Atlanta-based freelance writer.
For more news, follow Medscape on Facebook, Twitter, Instagram, and YouTube.